We Deliver Quality Specialty
Mechanical Services
Loenbro offers a wide range of specialty mechanical services delivered by experienced technicians available 24/7 who display an unmatched work ethic and commitment to safety and quality at the job site every day. We add value to customer operations by maximizing the availability of critical equipment, enhancing safety, reducing costs, and minimizing environmental related emissions.
From field machining and o-site bolting to hot tapping and pipe isolation, we are committed to meeting your needs and exceeding your expectations. We know that downtime impacts your bottom line. We work to eliminate shutdowns, keep your costs down, and earn the opportunity to be of service every day.
At Loenbro, our mission statement is to "change the way you think about contractors and become the industry leader in specialty mechanical services."
LOENBRO – LEADING THE CHANGE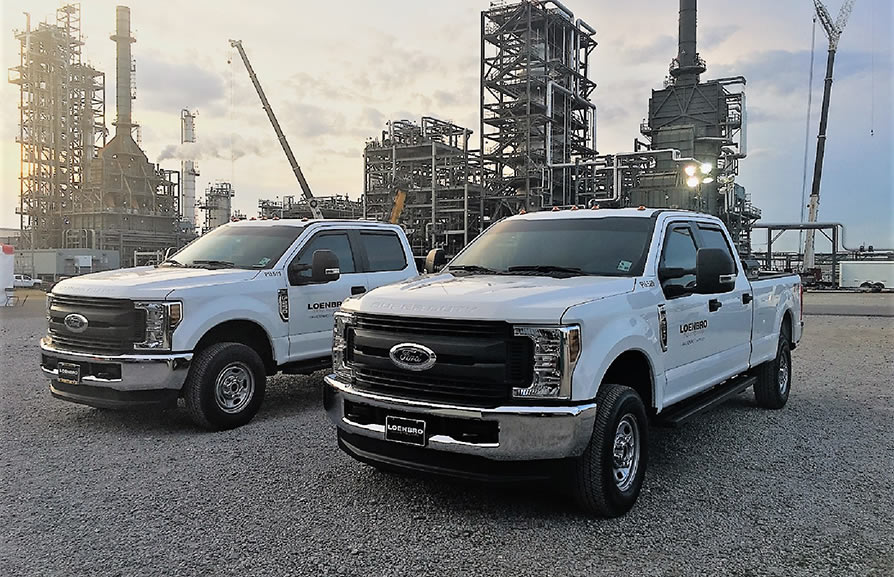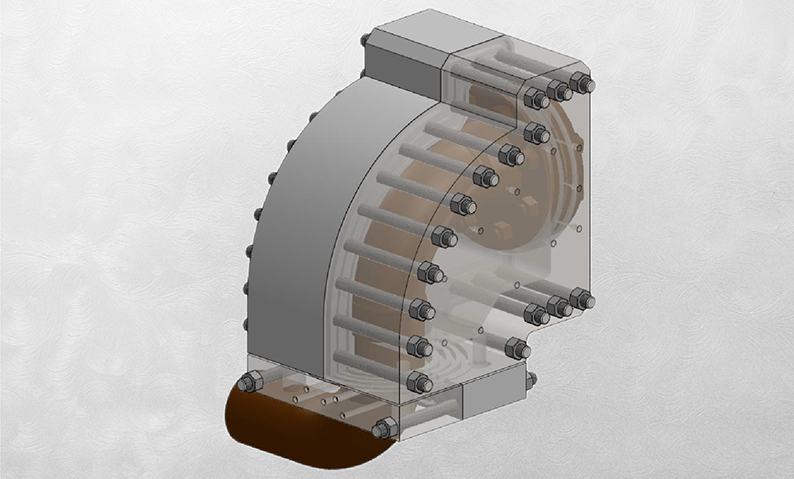 We Are Ready To Respond
To Seal On-line Leaks
Leaks can cost the industry in energy losses, reduced production, and emissions; not to mention the safety impact they can pose. Our leak repair services allow repairs to be made without interruption to operations or product loss. Utilizing safe work practices that are non-destructive in an effort to maintain both the integrity and extend the useful life of the component.
Packing Glands
Flange Gaskets
VOC Emissions
Composite Repair Applications
Valve Enclosures
Line Enclosures
Elbow Enclosures
Flange Clamps
For specialty mechanical services
you can depend on, call on Loenbro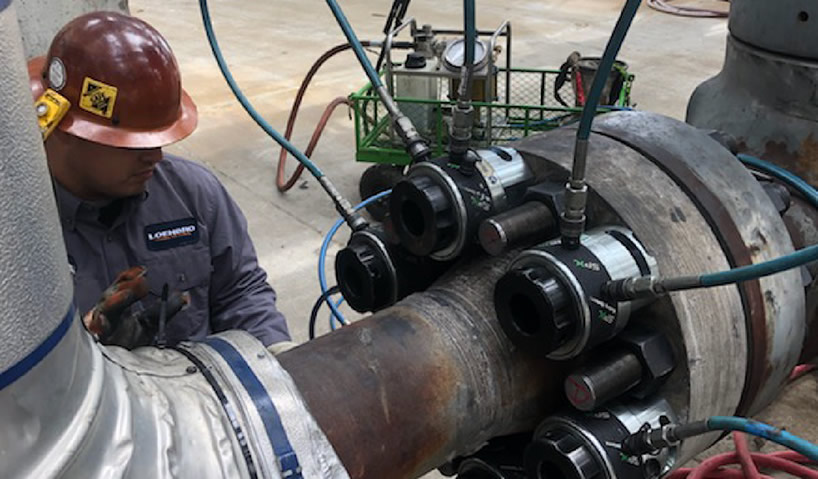 We Ensure the Integrity
of Your Bolted Joints
Our experienced technicians provide high quality technical bolting services. Whether the job calls for hydraulic torque wrenches, hydraulic tensioning, and or ultrasonic bolt-load measuring for verification, Loenbro delivers. Utilizing calibrated gauges and wrenches, we focus on safety and quality on every bolted joint.
Bolt Torqueing
Bolt Tensioning
Hydraulic Nut Splitting
Monster Grip Tools
Ultra-Sonic Bolt Scope
Structural Integrity
With Heat Induction

Our induction specialists have vast experience using heat induction, in conjunction with our on-site bolting allowing Loenbro to provide controlled tightening of turbine casings, HP steam inlets, and turbine coupling shafts. In addition, the same proven and effective methods can be used in exchangers for removing and preventing galled studs and facilitating faster breakouts. Safely remove and install mechanically fit components without damage, such as rings, sleeves, and couplings, along with the ability to perform shrink fit assembly and disassembly.

Rapid localized, controlled, flameless
Reduce chances of galled components
Increase productivity of breakout and make-up during critical path
Ultra-sonic bolt load verification can also be used

Engineered Composite
Repairs You Can Trust

Offering both engineered and non-engineered composite repair applications of pressurized components, Loenbro is able to support your maintenance and mechanical integrity programs with qualified installation of various systems. Providing both traceability and reliability to composite repairs our intent is to collaborate with you through assessment, product selection and installation.

ASME PCC-2
Custom Applications and Shapes
External Wall Loss and Weld Defects
Water Activated Systems

Glass Fiber Repair Systems
Carbon Fiber Repair Systems
External Corrosion, Pitting, and Dents
Restores Pipe to Original Strength

Cryogenic Line Freezing

Turn to Loenbro for a safe, proven, and cost-effective method to isolate a section of pipe by installing a mechanical jacket and injecting liquid nitrogen until the product is frozen allowing work to be performed downstream.

No Flow in Line Required
Service Must Have a Freeze Point
Pressures Up to Ratings of Pipe
Economic Alternative to a Line Stop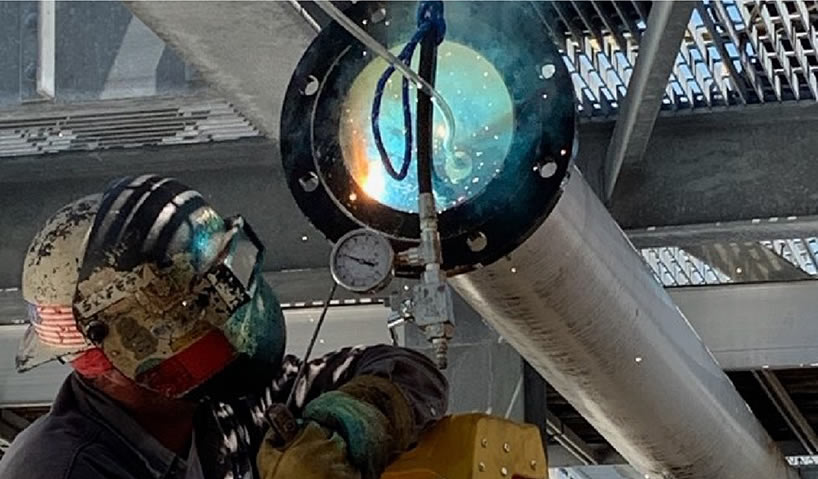 Pipe Isolation
& Weld Testing
Our pipe isolation and weld testing crews can verify the integrity of a welded joint and or flange installation / weld. This service compliments our other on-site services such as field machining (pipe cutting/beveling) and or line stop applications. Loenbro's double block and bleed isolation tools are designed to provide an isolation barrier of any upstream gases or vapor to allow localized field repairs and or modifications.
1/2″ thru 48″ Tool Sizes
25 PSI Back Pressure Rating
Ability to Monitor Both Upstream Pressure and Isolation Pressure
Ability to Both Isolate and Hydro-Test with Same Tool
1500 PSI Back Pressure Rating using Gripper Rings
Stay Up & Running With Quality
Hot Taps and Line Stops

When a tie-in is required and shutting down is not an option, Loenbro can offer the best solution and most economical alternative to a costly shutdown, with our skilled technicians and reliable equipment. We offer hot tapping services for a variety of pipe sizes and broad range of temperatures and pressures for the Refining, Petro-Chemical, Power, Pulp & Paper and Pipeline/Distribution sectors. Call Loenbro to review your project needs and develop a safe execution plan with you.

Turn-Key Service with Engineering, Manufacturing and Specialty Welding
Tanks / Vessels
Angle Taps / Flowmeters / Thermowells

Fully Rated Equipment to 1480PSI
Bolt-On Fittings
Full Encirclement Split Tees
Tapping Nozzles with Reinforcement Saddles

On-site Machining

Loenbro's on-site specialists are able to utilize portable field machining tools to perform machining and or modifications to in-situ piping, vessels, and other equipment safely and efficiently.

Refacing of Gasket Surfaces
Pipe Cutting and Beveling; Counterboring
Milling of Pump Pads, Motor Bases, and Sole Plates
Key Milling
Drilling and Tapping
Shaft Turning
Line Boring
Quality Services For Many Industries
Loenbro is committed to providing exceptional mechanical services to many industries. Below, click to learn more about them.