Need a new facility?
Let us plan & build it
Loenbro's experienced project managers and superintendents can assist you with budgeting, planning, scheduling and ensuring your site is OSHA compliant. We'll also build your facility from the ground up and complete all services — from precise civil work to the testing that ensures your structure is safe for operation.
We can begin the conversation at any stage in planning.
Call today to learn more!
We minimize downtime with
our one-source solutions.
Compressor & pump stations

Loenbro connects in-service lines to deliver product during compressor and pump station construction. We fabricate and install process piping using inside stations and complete concrete work for pipe supports or structural steel welding on site.

Notable pump station skills:

Turnkey station construction
Fabrication and concrete services
Thorough site reclamation work
Safe removal of abandoned pipelines

What can we do for your next project?

Civil, concrete & pier work

We employ skilled equipment operators and the machinery they run is well maintained and operated safely.

Loenbro tackles quality civil projects:

Dirt moved
Ground graded
Concrete foundations poured
Piers drilled
Racks, piping, pumps and other mechanical equipment fabricated and installed

How can we help your next project?

Contact us today to get started

Structural steel fabrication & erection

Loenbro's certified welders can fabricate steel structures on site or in one of our fabrication shops. We perform heat treating, component inspection and semi-automated and manual welding projects. We also have expertise in exotic metals such as aluminum, chrome alloy and Iconel 800H.

We're trained to build:

Modular skid piping
Gas racks
Vessels
LACT units
Launchers and receivers

Compressor stations
Gas plants
Spools
Meter skids
Pump stations

Welding is part of Loenbro's history, and some of the work we're most proud of.

Talk to one of our experts about how we can help you
Loenbro is Officially Certified by The American Institute of Steel Construction
Loenbro is proud to announce that we are officially certified by the American Institute of Steel Construction (AISC) as a certified erector. AISC sets the standard for the steel industry, and this certification means we meet their rigorous quality and safety standards. This honor marks a milestone in our commitment to growth and the highest level of service.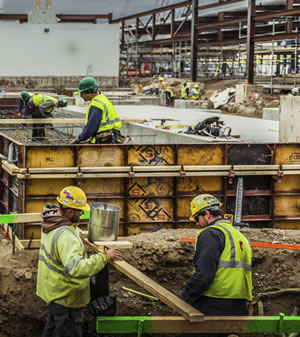 Skilled in plant construction
Meeting manufacturing challenges
Loenbro delivers construction excellence with every new building or expansion project we undertake. Whatever you manufacture — petrochemicals, agriculture goods, pharmaceuticals or other products — we can construct a building to meet your needs, budget and timetable.
Turnaround services

We plan these complex turnaround projects and manage the development, budget, schedule, safety and completion of the work. Our services include vessel and piping repair and installation, scaffolding, insulation, coatings, specialty welding and maintenance.

Additional trusted turnaround capabilities:

Component prefabrication & installation
NDT testing
Equipment & facility inspection
Emergency callouts

Repairs & Maintenance

We are poised to respond to emergencies to ensure the safety of your facility. Loenbro teams perform scheduled maintenance, some required by code, and identify areas of concern and develop key repair plans.

Dependable, quality services round the clock:

Experience serving many industries
Cost-effective maintenance programs
Quality performance from reliable crews
Trained in workplace safety

A Loenbro team is ready, 24/7 for whatever happens and we can help you get an emergency plan together today.

Learn more about our Pipeline Maintenance Services

Blasting & Painting

Loenbro's fabrication shops are set up to meet your blasting and painting needs. Let us fabricate equipment for you, then complete blasting and painting to prepare it for installation.

Convenient cleaning and coating services:

Equipment for on-site blasting and painting
Removes paint, rust and corrosives safely
Cost-effective way to clean equipment
Paint and many industrial coatings
Critical for the longevity of components

Have a fabrication project for one of our experts? Our facilities are nearby.
Many industries turn to Loenbro
See more about what industries trust Loenbro with complex construction services and general contracting work.